The Donwood Auxiliary
The Donwood Auxiliary was formed in 1971 and currently has 20 members from the eight supporting MB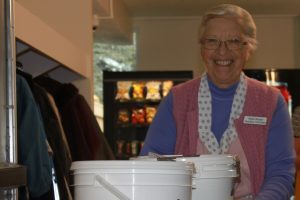 churchesand other community churches. The Auxiliary raises funds through several fundraisers throughout the year.  Monies raised are shared with the Foundation and used for projects suggested by Donwood Manor to promote quality of life for our Residents. Some items the Auxiliary has purchased in the past are a Hoyer lift, curtains, name plates for resident's rooms, therapeutic mattress surfaces, Christmas gift bags for residents, to name a few. Although the variety of fundraising activities have changed over the year, the main events that the Auxiliary organizes continue to be their famous fall Soup & Pie luncheon and a winter perogy fundraiser.
Raising funds is only one small part of how the Auxiliary is involved at Donwood.  The Auxiliary meets once a month on the third Wednesday of the month and after the meeting they host Tea & Visiting for Residents, spending time visiting with residents from all of the care units.
The current Donwood Auxiliary Chair is Betty (Elizabeth) Unrau.
For more information on how to become an Auxiliary member please email jkappy@donwoodmanor.org.